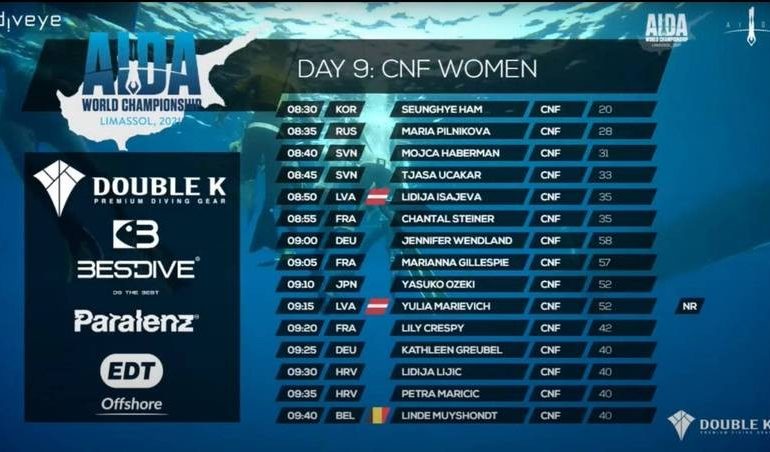 Divers from 10 countries defy Taiwan flag ban
By Keoni Everington, Taiwan News, Staff Writer
2021/10/01
A Japanese diving association along with athletes from 10 countries requested their national flags be removed from the leader board in support of their Taiwanese counterparts after the Taiwan flag was suddenly banned late in the competition.
Five Taiwan freedivers participated in the 27th AIDA Depth World Championship, which was held in Limassol, Cyprus from Sept. 20-30 with 150 athletes from 40 countries. However, on Tuesday (Sept. 28), the event's organizer International Association for the Development of Apnea (AIDA) suddenly yanked the Taiwan flag from the leader board on its live-streaming broadcast without warning.
AIDA Japan then issued a post on Facebook requesting the event's organizers to also remove Japan's flag from the live YouTube feed. Stated that it could not overlook the fact that "only Taiwan is disadvantaged." AIDA Japan expressed the wish to "share the pain with Taiwan" and vowed to "not allow politics to interfere in our sport."
Subsequently, athletes from Russia, the U.S., Croatia, the Netherlands, Australia, South Korea, France, Germany, and Slovenia also requested their flags be removed to show solidarity with their Taiwanese competitors.
AIDA Taiwan on Thursday issued a formal protest on its Facebook page condemning the organizer for failing to discuss or inform it about the change, the "reckless" method of dealing with Chinese censorship, and it warned that it sets a bad precedent that could lead to the flags of other countries being banned as well.